Great Parks of Hamilton County
COVID-19
In the wake of the COVID-19 coronavirus in Ohio, we want to assure our guests we are monitoring the situation closely.
Effective Thursday March 19, 2020, Great Parks is extending closures and cancellations through May 10, 2020.
We are waiving the Motor Vehicle Permit to make our parks more accessible so everyone can enjoy the outdoors.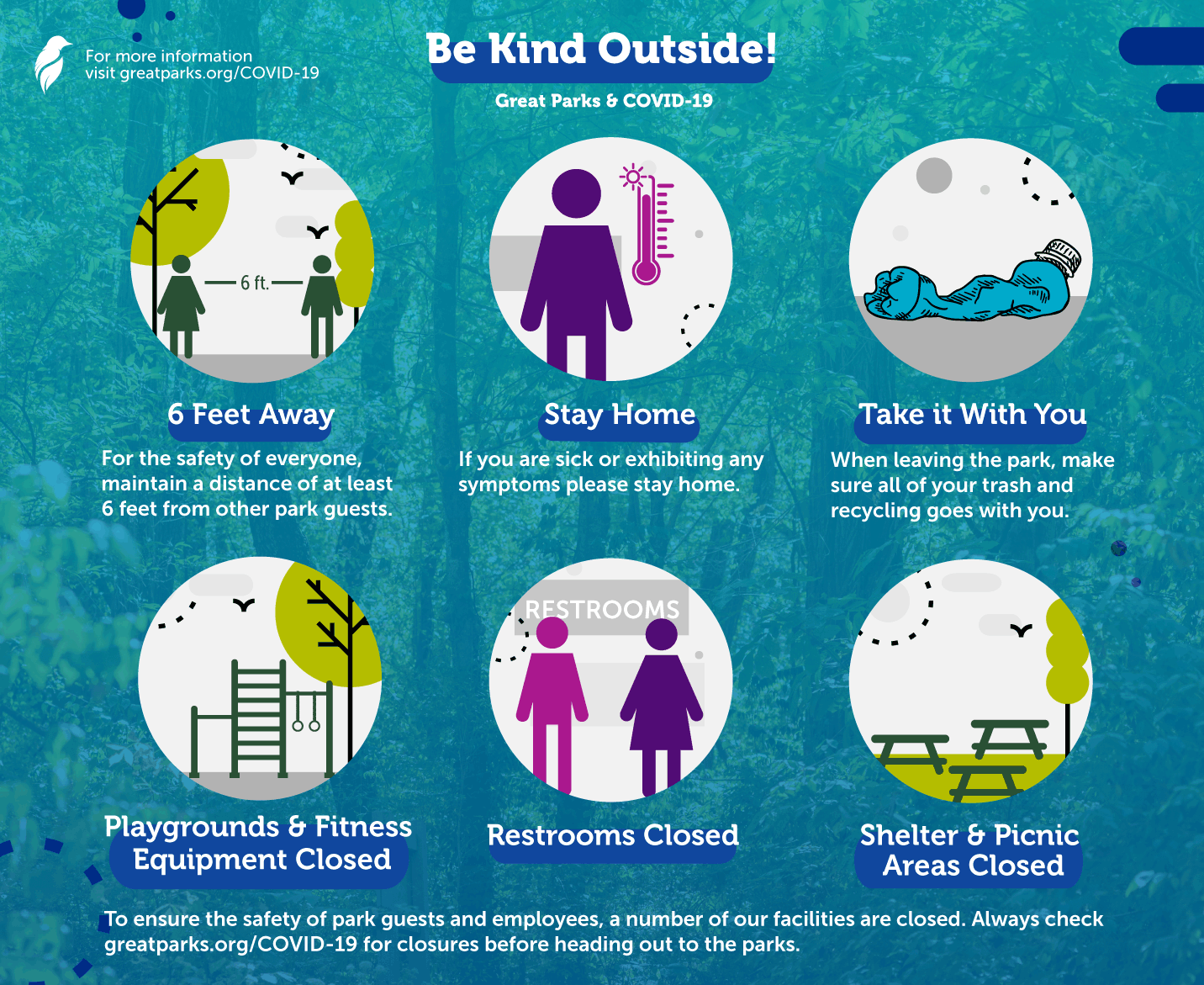 As of Thursday, March 19, the following is open:
All 21 Parks and Preserves (restrooms are closed)
Passive Recreation including Trails, Disc Golf, Private Boat Access and Fishing Access
Effective Monday, March 23, the following Is closed and canceled through May 10, 2020:
Basketball Courts
Boathouses
Camping at Lake Isabella, Miami Whitewater Forest and Winton Woods
Dog Parks
Easter Brunches
Ellenwood Nature Barn at Farbach-Werner Nature Preserve
Events (on-site and off-site)
Food Service
Golf Courses
Golf Lessons
Group Camps
Highfield Discovery Garden
Horseback Riding Lessons
Indoor Playgrounds
Mother's Day Brunches
Mystery Dinners
Nature Center at The Summit
Nature's Niche Gift Shops
Organized Soccer and Softball
Parky's Farm
Picnic Areas & Shelters
Playgrounds and Fitness Equipment
Programs (on-site and off-site)
Reservable Areas (indoor and outdoor)
Restrooms
Spring Break Camps
Tournaments and Leagues
Visitor Centers and Exhibit Areas
Volunteer Events
Water Fountains
We are not reserving shelters or facilities through May 10, 2020. All existing reservations through May 10, 2020 have been canceled.
What you can do
Wash with soap and water for at least 20 seconds.
Use an alcohol-based hand sanitizer (containing at least 60% alcohol) if soap and water are not available.
Clean and disinfect frequently touched surfaces at home and at work.
Avoid touching your eyes, nose or mouth.
Stay home when you are sick.
Avoid close contact with people who are sick.
Helpful resources
Hamilton County Public Health: https://www.hamiltoncountyhealth.org/
Ohio Department of Health: https://odh.ohio.gov/wps/portal/gov/odh/home
Centers for Disease Control: https://www.cdc.gov/
The safety and well-being of all of our guests, volunteers and employees is paramount. We will continue to monitor the situation and adjust as needed. Please visit this page for updates.
Parks @ Home
At home with your kids and need something fun to do? Or do you need a way to de-stress while working at home? Check out our brand new page, Parks @ Home to find activities, videos, backyard challenges and more for kids, families and adults. Parks @ Home is updated with new content every day, so you can experience nature anytime, anywhere. Click here to learn more.
This page was last updated March 30, 2020