The 12-acre Highfield Discovery Garden at Glenwood Gardens is a delight for any age. It is designed to encourage guests to explore the natural world in a fun, engaging environment. Along with the 25-foot Discovery Tree, there are seven smaller gardens to explore within Highfield Discovery Garden:
Now Open! - Music Garden
This unique new garden welcomes guests to create sounds from outdoor musical instruments, while surrounded by music-themed plantings to highlight the connections between music and nature.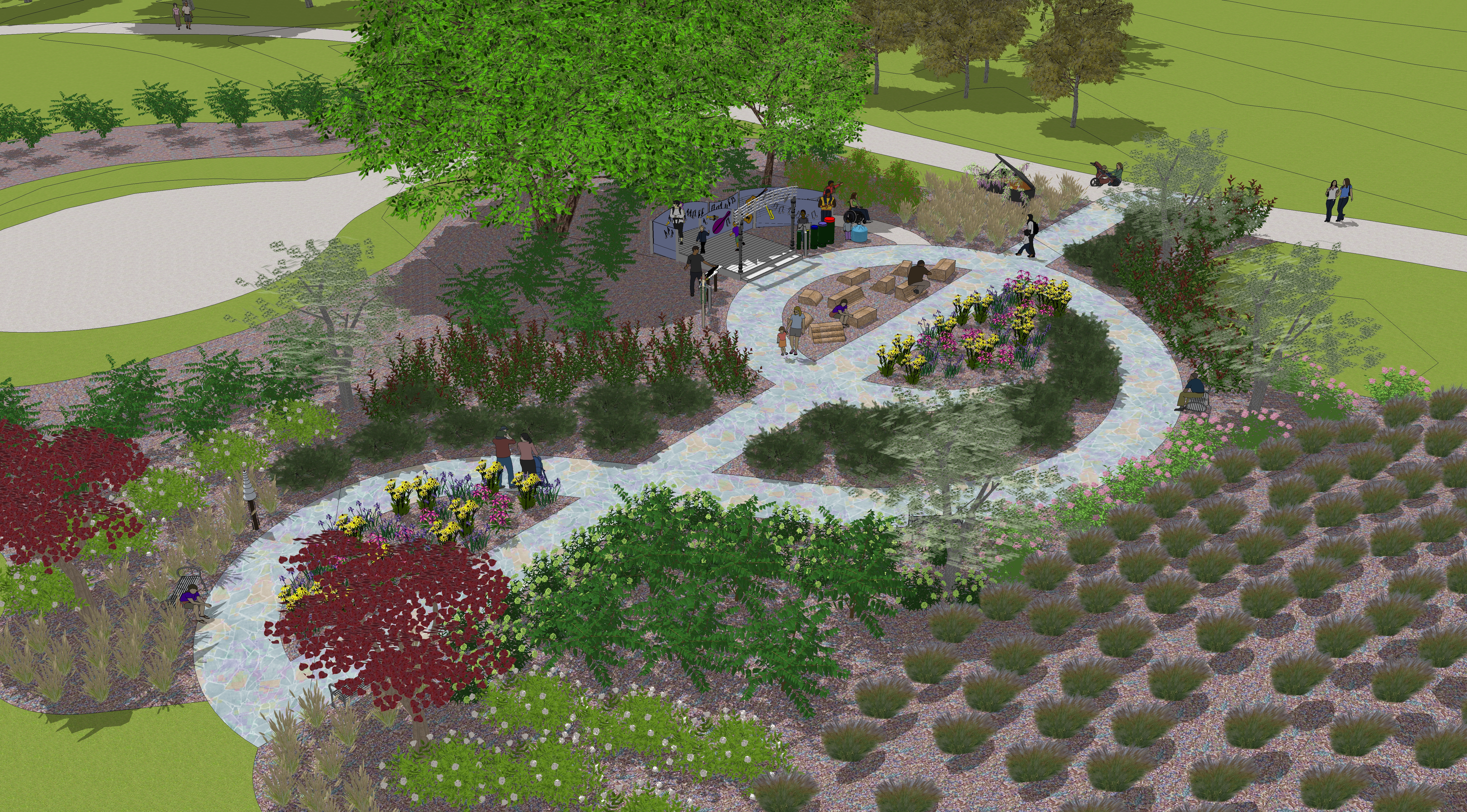 The garden includes a stage surrounded by five music stations featuring outdoor percussive instruments, including a tung drum, double-sided chimes, and others. Winding through the garden is an accessible path in the shape of a treble clef. In addition to the music stations and plants, the garden will also feature more delightful surprises. Above the garden's 140-square-foot outdoor stage will be displayed musical notes for the song, "You Are My Sunshine." Plantings selected for the garden will feature music-related names such as Johnny Cash Daylily, All That Jazz Peony, Drumstick Primrose, and Spring Symphony Foam Flower.
Thank you to Ohio Department of Natural Resources NatureWorks program, Dorothy B. Francis Charitable Foundation, Highfield Foundation and Robert Gould Foundation for making this project possible.
Frog & Toads Garden
Look closely among the lily pads and you'll see they are surrounded by frogs.
Wizard's Garden
Pass the purple hat, don't wake the dragon and take the bouncy bridge to the fairy garden.
Trolley Garden
Four small scale trains run on tracks surrounding some of your favorite storybook characters.
Vegetable Garden
Raised beds will put you at eye level with common and not-so-common vegetables.
Grandma's Scent Garden
You'll be surrounded by smelly plants for your pretend tea party here.
Morph Garden
The caterpillars in this garden are huge!
Butterfly Garden
This garden is shaped like its favorite resident.